Action on Dog Fouling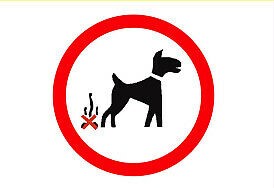 Action on Dog Fouling
Chelford Parish Council has received a number of complaints from residents regarding dog owners who do not clear up after their dogs. Cheshire East Council has been approached for advice on how to tackle this issue and the following information has been received:
In relation to the issues of dog fouling you are having in Chelford, my advice would be to ask the residents to report any incidents of dog fouling they witness or the increasing levels of fouling through to Cheshire East Council either via 0300 123 5021 or via the online reporting system.
Cheshire East Council does not advise any member of the community to approach and challenge anyone over failing to pick up after their dog as this presents its own risks, the Community Enforcement Officers can deal with issues of dog fouling a number of ways, if the incident has been witnessed and the witness can identify the person responsible and is willing to provide us with a witness statement we can issue a fixed penalty notice off the back of this, alternatively if an officer witnesses the behaviour themselves they can and will issue the fine there and then, however this is based on the officer being in the right place at the right time and as you can appreciate isn't always possible due to resources across the department.
The use of normal litter bins is acceptable for bagged dog waste. Experience within Cheshire East is that signage and bins have a limited effect on the levels of dog fouling, the biggest deterrent is a community that is willing to provide the information and evidence to effectively enforce on those who think it is acceptable to leave their dog fouling behind either bagged or loose.
If residents do provide a witness statement their details are kept confidential and the offender would not be made aware of where the statement came from, there is a small chance that if the fine remained unpaid that the witness may be asked to attend court but the officers at Cheshire East Council have not experienced this happening.
Dog fouling
It is illegal to fail to clear up after your dog if it fouls on any land which is open to the air and to which the public has access.
The penalty for contravening the act is a £100 fixed penalty fine. If the fine is not paid within 14 days, then this may lead to prosecution in a magistrates court with a maximum fine of a £1000.
[https://www.cheshireeast.gov.uk/environment/community_safety/dog_wardens.aspx]